Initiating the design and construction of a new home or professional office building is a major endeavor for any individual or company. At R.J. Howey, Inc., we make it our mission to not only develop great designs, but also fully understand the functionality, needs, concerns and desires of our clients.
Our experience allows us to evaluate those client needs and map out a project plan that that is not only creative and aesthetically pleasing, but also functional, practical and affordable. Our personalized approach aims to meet client expectations, in terms of both design and budgets. Our understanding of the process allows us to help our clients achieve their visions in these highly cost-conscious times. Our passion for our profession drives our ambition to create the best outcome for each and every project.
Architectural design is a unique profession that melds human emotion with bricks and mortar to create both structure and a feeling of place. Our legacy not only lies in the physical landscape we leave behind, but in the contentment of those we have been privileged to serve.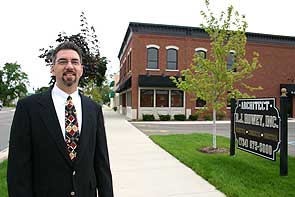 Company founder and owner Robert Howey says his youthful knack for carpentry provided the first inkling of what his future would hold career-wise. Since those early days working as a carpenter and a painter, Howey's professional evolution has seen him develop into one of southeast Michigan's most knowledgeable and talented designers and builders.
But the graduate of Lawrence Technical University has not lost touch with his roots. While he may have traded in his tape measure for an architectural scale, it's still not that unusual to find him on a job site, clad in work boots and wielding a hammer. It's just another function of his practical, down-to-earth nature.
While Howey's building and home designs now dot the landscape of southeast Michigan and beyond, he enjoys staying in close touch with the construction process — even if it means lending hand with the work crew from time to time.
Possessing both architect and builder licenses with the State of Michigan, Howey maintains membership in several professional organizations, including the American Institute of Architects and the Michigan Society of Architects. He also has served on the AIA Building Codes and Regulation Committee.
Howey also is highly active in his community, serving as past chairman of Trenton's Downtown Development Authority and maintaining membership in the Trenton Rotary Club (past president). He also has mentored aspiring builders and architects through the Downriver Career Technical Consortium and serves as a coach for the Trenton Hockey Association.
Founded in 1988, R.J. Howey, Inc., is a full-service architectural design company. The company has successfully completed a wide variety of commercial and residential projects for clients throughout Michigan.
It provides start-to-finish planning and design services, encompassing architectural, mechanical, electrical and structural engineering, as well as interior and landscape design.
Company founder Robert Howey is also an accomplished builder who has planned and overseen the construction of many of the buildings he has designed.
The company's residential services range from renovation/addition planning to the design of new single- or multiple-family custom homes, to new subdivision planning and development.
On the commercial side, the company has earned a reputation regionally as a noted designer and builder of medical professional office buildings, retail stores and various municipal facilities.